Accomplishments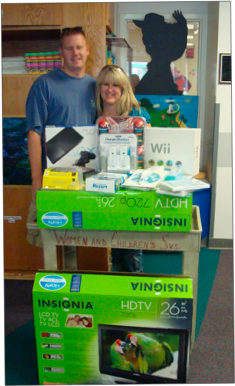 The Kick Cancer For Stephen Foundation began in February of 2009. Our focus and our purpose was clear from the beginning due to the strong desires of our motivator, Stephen A. Placencia. The foundation will continue to keep Stephen's desires as our focus.
The foundation has hosted various events including:
3V3 Soccer Tournaments
4th of July FreedomRuns
Golf Tournament
and various raffles
With funds raised during these events the foundation was able to fulfill one of its on-going goals, to provide age appropriate activities for teenage cancer patients. Donations continue to be made to the University of Arizona's Oncology Center in Tucson, Arizona.
Goals
The Foundation has committed to placing a gaming system in every room at the new Diamond Center at University Medical Center, starting with pediatric oncology rooms, of which there are 21 rooms.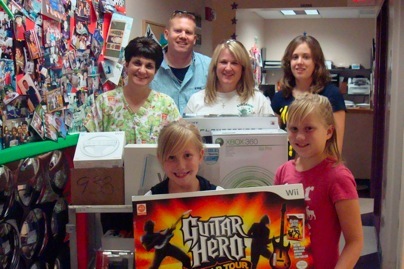 The Foundation has identified two specific entities, the Ronald McDonald House in Tucson, Az and the Family House in Pittsburgh, PA, where the Placencia's stayed during Stephen's hospital stays, to receive donations.
Stephen's experiences and beliefs have led to some long term goals identified by the Kick Cancer For Stephen Foundation.
Stephen believed the rain forrest should be explored to help find a cure for cancer, the foundation would like to sponsor research in that area.
The Foundation is exploring the possibility of having a theatre room at the new Diamond Center at University Medical Center in Tucson, Arizona. Having a theatre at the Diamond Center would enable those undergoing treatment to have the option of viewing first run movies even when their treatment dictates that they remain at the center.
It is also a goal of the Foundation to set up a house near University Medical Center in Tucson, Arizona, to provide meals and lodging for families of patients of University Hospital.
We began these endeavors through the motivation of one very courageous young man, Stephen A. Placencia. We ask you join us in continuing his fight. The Foundation members and our many supporters have made it possible to achieve what we have so far. Our commitment is to continue reaching higher to achieve the goals inspired by Stephen.
An example of the donations made by the Kick Cancer for Stephen Foundation (to the University of Arizona's Oncology Center):
LCD Flat Screen TVs
Gaming Systems
Xbox Systems
Playtstation 2
Playstation 3
Wii Systems
Various game, movies, controllers, extra batteries, gift cards
Snacks and drinks for the clinic