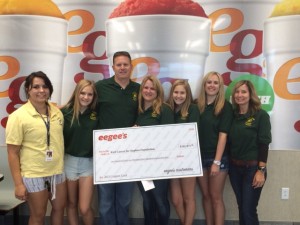 As you know, the Kick Cancer for Stephen Foundation was chosen as one of three beneficiaries of eegee's 23rd Annual Coupon Card Program. Every year, during the month of June, eegee's conducts it's annual coupon card program in order to financially benefit local non-profit organizations. This year's coupon program raised over $240,000 which was divided among the chosen beneficiaries, KCFSF, Ben's Bells and BAG IT-Fight the Fear. The Kick Cancer for Stephen Foundation was awarded over $76000.
This amazing award will help to complete another big project at the Banner Children's-Diamond Children's Medical Center, as well as many other projects.
"We are grateful, thankful and overwhelmed. Thanks to eegee's and all of Tucson." –Steve and Francie
Again, thanks to all who purchased a coupon. Think of us and Stephen as you enjoy your eegee's throughout the year!