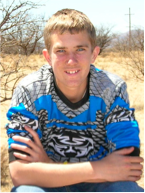 Stephen's Wish…
Stephen's wish was to find a cure for cancer. He believed that the rain forrest should be explored in the quest to find a cure. Stephen had a strong desire to help the clinic where he received treatment. He understood the hardships cancer patients face and wished to ease those difficulties for future cancer patients.
Stephen is the inspiration that motivated the formation of the "Kick Cancer For Stephen Foundation, Inc." It was the desire of Stephen's parents to carry on the wishes of their son. With the help of those close to Stephen and his family, this foundation was created.
Unfortunately, cancer has touched many lives, which has brought pain and suffering, but has also created strength and incredible bonds. Everyone is welcome to join the foundation's endeavors: to provide funding for research for all childhood cancers, to provide activities for teenage children while in the hospital and to provide resources to parents and family members who have a child diagnosed with cancer or have lost a child to cancer.
It is through the support of our event participants, sponsors and donations that the foundation is able to achieve the wishes of a brave cancer fighter. Your donation will continue to provide for those in need.
The Kick Cancer For Stephen Foundation, Inc. would like to thank you for showing your support with a donation or even for visiting our site. Whatever your battle, our prayers are with you. God Bless you!
To mail a donation, send to:
Kick Cancer for Stephen Foundation
8110 S. Houghton Rd.
#158 PMB 148
Tucson az 85747
EIN #: 80-0381382